I'm not sure where that itch of devotion comes from, the one that gets a person up early in the morning to fold their bed sheets carefully before having a cold shower in preparation for a job as personal as that of a singer-songwriter. Melbourne's blessed, in a world where popular music has turned bland and good-looking, to still produce such unique musical talents such as KES, Jonathan Michel and Oliver Mann. Artists who take the listener on an intimate trip to the furthest corners of the human soul and experience.
Oliver Mann's flare for storytelling through song is enriched by his opera training, giving him a huge spectrum of delicate and penetrating vocal tools to enter a listener's heart. 'Shoes of leather', a regular on Olly's set list, details the story of a drug trafficker's effort to reach Hong Kong by foot after his plane crashes in the jungle. It's quite a story that reaches heights when Olly belts out the chorus 'Hong Kong forever, onward walk', summoning an almighty tone that vibrates and almost crumbles me when I hear it. I've cried and laughed many times listening to Olly meander through intimate performances at local churches, ballrooms and his Sunday residency at the Edinburgh Castle in Brunswick.
I was keen to hear about Oliver's recent tour of Japan, and asked him to share some words and pictures from his wonderful journey.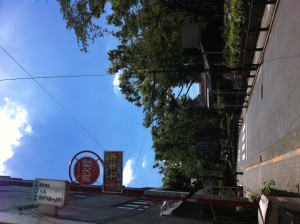 1. I got to Ikebukuro in Tokyo to prepare for my first week of touring some new music I had written. The thing about Japan is it's tough to find somewhere to practise music because the living confines are often tight and too much noise can be upsetting for neighbours, so I was forced outdoors into the megalopolis but found this tiny park in Ikebukuro amidst the streets and streets of concrete. I had to practise walking around in circles to disrupt the preying mosquitos! It was a special park—Tokyo is full of such diamonds in the rough.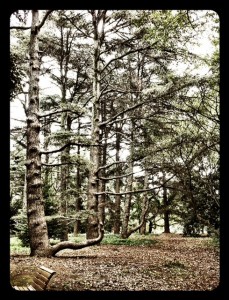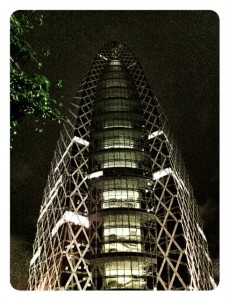 2, 3. The gardens in Shinjuku, a morning stroll … After a six-show tour through Japan I lived in Shinjuku for a month preparing and performing the Donizetti opera Don Pasquale in a joint production with Opera Australia and the Arts Foundation, Tokyo. This was a busy rehearsal period followed by two shows in the Shinjuku Bunka Center, so it was pretty heads down. I took any chance I could to walk through the park next door to the hotel—Shinjuku Gyoen-mae park … and if I got lost in the surrounding megalopolis I could look up to orient myself with the Cocoon Tower.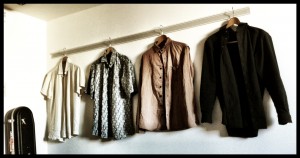 4. My partner Peet made me some tour shirts … so I looked stylish when I played.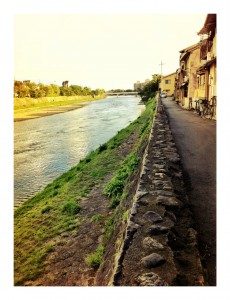 5. This was my dusk walk along the Kamo River, Kyoto, from where I was staying for my show that evening. Shows are always quite early, three- or four-band bills starting around 7 pm and over before 10 pm.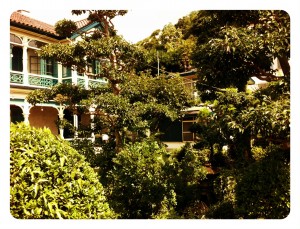 6. Guggenheim House in Shioya, Kobe
A grand old house with musical performances in the living room. Owned by an experimental musician named Ali Morimoto who was very kind and accommodating. I played here with Eddie Marcon's band and a wonderful pianist, Takeo Toyama.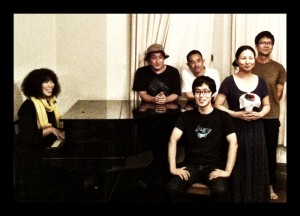 7. This is Eddie sitting at the piano with the band in the living room at Guggenheim House, just after the show.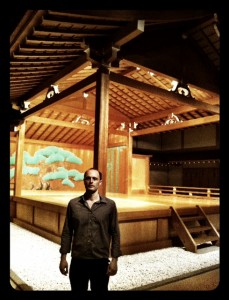 8. I listened to a lot of traditional Japanese music while over there. Here is a photo of me in front of the very intricate Noh stage in Tokyo—the National Theatre. At the back of all Noh and Kyogen stages there is a painting of a matsu—an aged pine tree. Ancient spirits can make their way down to earth where there is an aged pine tree. Good vibes.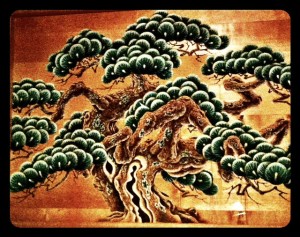 9. This is the most beautiful painted matsu I found, in Shimokitazawa, Tokyo. A massive and striking painting.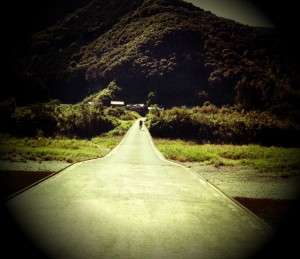 10. After the shows were over Peet and I went for a ride. This is Peet riding across a Chinkabashi, which is a specially designed bridge intended to sink peacefully and steadfastly in the event of flood (hence, no railing). The Shimanto River in Shikoku is one of the last clear water rivers in Japan and was stunning to ride along, though our ride was cut short by the onset of a typhoon.
www.olivermann.com